How UKRAINEPRIDE helps the Territorial defense, the Azov Regiment in Mariupol, the LGBT military and more
Until February 24, the LGBTQ military, like most Ukrainians, were ordinary citizens with their daily affairs. Some of them had military experience after the fighting in 2014, some were just serving time, some were volunteering, and some were just planning a happy family life. Today, most LGBTQ soldiers serve in the Armed Forces and the Territorial Defense. They are not a separate regiment or special unit – they are people who have different military specializations and are in different parts of Ukraine, protecting our state and its people from the enemy.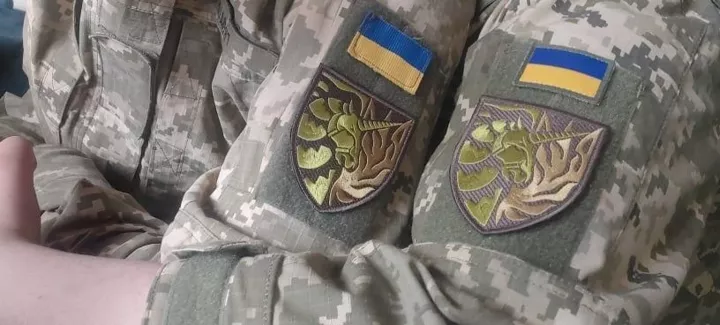 At the end of 2020, director Yuri Dvizhon and human rights activist Sofia Lapina founded the public organization UKRAINEPRIDE. Before the war, she took care of making LGBTQ people "visible" as equal members of society. In peacetime, the organization worked in the human rights advocacy field and was a patriotic queer movement, protecting the community from homophobic violence, promoting police reform, and resolving anti-discrimination legislation.
During the war, UKRAINEPRIDE took on an additional vector of work. Currently, the organization is doing everything possible to accelerate the liberation of Ukraine from the Russian occupiers. UKRAINEPRIDE has set up a large-scale fundraising campaign, first to help the LGBTQ military and community, queer migrants, their families, and friends. And then began to support all those who asked for help.
"Our number one task is to help as many people as possible who need it: from the military to the families of migrants, those who have suffered the most from the fighting", — said Yuri Dvizhon.
UKRAINEPRIDE added two more vulnerable groups to help: lonely elderly people and victims of the fighting in Bucha and Gostomel. The next step is to help the Shostka City Center for Rehabilitation of Children with Disabilities, which houses 280 children who are catastrophically short of medication.
However, despite the expansion of responsibilities, the organization does not abandon its main mission – to support the LGBTQ community. "It is important for us to cover the activities of the LGBTQ military here and now so that after the war no one could say that gays did not defend Ukraine and they are not members of Ukrainian society", — said Yuri.
"For me, this story began in 2018, when I was still a member of KyivPride. Then, with photographer Anton Shebetko, our organization organized an exhibition "We were here" — these were real stories — with closed faces and changed voices — about LGBTQ representatives, — says Sofia Lapina. — We knew many LGBTQI members who were in the anti-terrorist operation, but it was very difficult to involve them in the project, they were afraid of coming-outs. Out of about 10 participants, only one serviceman came out and spoke openly about the project and at the presentation of the exhibition itself".
"Every day, LGBTQ soldiers risk their lives at the front. And to die without revealing oneself to one's family, relatives, and the world about oneself and one's sexual orientation is the worst that can be imagined, says Yuri Dvizhon. – This is a very important part of every person who wants to share. It's about love, love, and support. But during the war, the fear of public condemnation simply leveled off. Especially now it is changing a lot".
As an example, Yuriy cites publications on the Ukraine.ua page on Instagram, where they made several posts and told about the LGBTQ military. Both posts received positive comments from subscribers, regardless of their sexual orientation and gender identity. This unity encourages you not to be afraid of coming out and resorting to them.
"Our mission is not to divide, but to unite. Similarly, communication, partnerships, or dialogue with conservatives are not a problem for us, because democracy is the coexistence of all points of view, provided that none of them restricts the rights of others and does not lead to violence", — Sofia said.
On this basis, UKRAINEPRIDE began to support military formations, including the Azov Regiment. Representatives of a special unit of the National Guard of Ukraine, which is currently defending Mariupol, turned to the public organization when they saw the UKRAINEPRIDE publication on social networks about the fundraising campaign and assistance to all who apply. "Yulia Fedosyuk, the wife of a soldier of the Azov Regiment, with whom we had previously communicated, wrote to me on Instagram, — says Sofia Lapina. — She asked for financial assistance to buy radios and thermal imagers. At the end of the address, she clarified: "We will understand if you refuse us", because it is known that the views of the Azov Regiment are conservative. We did not refuse. We have never had direct conflicts with representatives of the regiment. In recent years, Azov has not been among those who attack LGBTQ people. This is being done by other Russian-sponsored radical groups. It is to visualize pro-Russian propaganda about so-called "Ukrainian neo-Nazism".
"We communicated with Sofia long before the start of the full-scale war in Ukraine, mostly discussing the problematic aspects of subcultural ideologies of the right and left. Our views differ significantly, but this did not prevent us from communicating, — says Yulia Fedosyuk. — Now all differences are put on hold because we are threatened by an enemy against whom we must defend together. I am grateful to the organization for its financial assistance, as the regiment's reputation, which has been built over the years by architects of Russian propaganda in the Western media, is, to put it mildly, untrue".
The Azov Regiment is one of the largest combat-ready units of the Ukrainian army, defending our homeland since 2014. The Azovs are patriots of Ukraine who are ready to sacrifice their own lives for its prosperity. They have shown their devotion to the state, not in word but deed for the past eight years, taking part in the fiercest battles in Ilovaisk, Mariupol, and Shirokino. They are demonstrating this even now, keeping the defense at the hottest point of the current military action — Mariupol.
"I, my husband Arseniy, and many Azov soldiers are conservatives, but none of us have ever supported violence against members of the LGBTQ community. We believe that all disputes over the future of our country's civilization should take place in the field of intellectual discussions and dialogue between opponents. And it is for the values ​​of such spiritual freedom, a decentralized republic with the possibility of pluralism of opinions and competition of ideas, that our guys are fighting in Mariupol. For a subjective society, for freedom of speech and thought, for competitive policy, for a free Ukraine", — Yulia said.
UKRAINEPRIDE also notes to itself that by helping anyone, including the Azov Regiment, the organization is not waiting for a change in one's views or "rebranding of people to LGBTQ colors". "We must preserve our freedom and the achievements we already have in the fight for human rights, — said Yuri Dvizhon. — After all, we all know what a terrible situation with human rights and freedom of speech has developed in Russia, what laws are being passed in this country (for example, banning "homosexual propaganda"), where no one can go to the rally safely if not agreed to authorities, and in 99% of cases prohibits any protests. We will not allow this in Ukraine".