How a make-up artist and model Ivan Honzyk became a military doctor and joined the Territorial Defence Forces
Ivan Honzyk is only 26 years old – and this is the second time he goes to war. In 2015, a graduate of the Medical College in Henichesk signed a contract with the Armed Forces – and spent a year in the anti-terrorist operation zone, near Bakhmut as a military doctor. After the end of the contract the guy, as he admits, immersed himself in art. He moved to Kyiv, became a make-up artist, worked in modelling, and learned pole dance. But on February 24, the war came back into his life. We recorded the story of Ivan Gonzyk.
"In 2015, I graduated from medical school in my native Genichesk. Was medicine my dream? No. Everything went according to standard: I finished school, and because my mother worked as a nurse and there were doctors in the family, I went to medical college. It was not far from our house (laughs). I continued the family business, so to speak.
Immediately after graduation, I signed a contract with the Armed Forces. It was a conscious decision. At first, I was assigned to work in the Kharkiv hospital, and literally, a few months later I was sent to the anti-terrorist operation zone. This was the second line of defence, the Donetsk region, near Bakhmut. After spending a year in the anti-terrorist operation zone, and then came to Kyiv. In three years, I took a certain step in my career – when I started, I was a male nurse, and in Kyiv, I already received a medical specialization and worked as a senior radiologist in the CT and MRI department at a military hospital.
In 2018, my contract with the Armed Forces expired, and I left medicine. I already understood then that I am still a more creative person than a doctor. I was like that as a teenager, but at the age of 16, living in Henichesk, you don't know that there are such professions as make-up artist or model (laughs). In Henichesk, I did not understand at all that I have prospects in the creative sphere, so I followed a well-trodden path.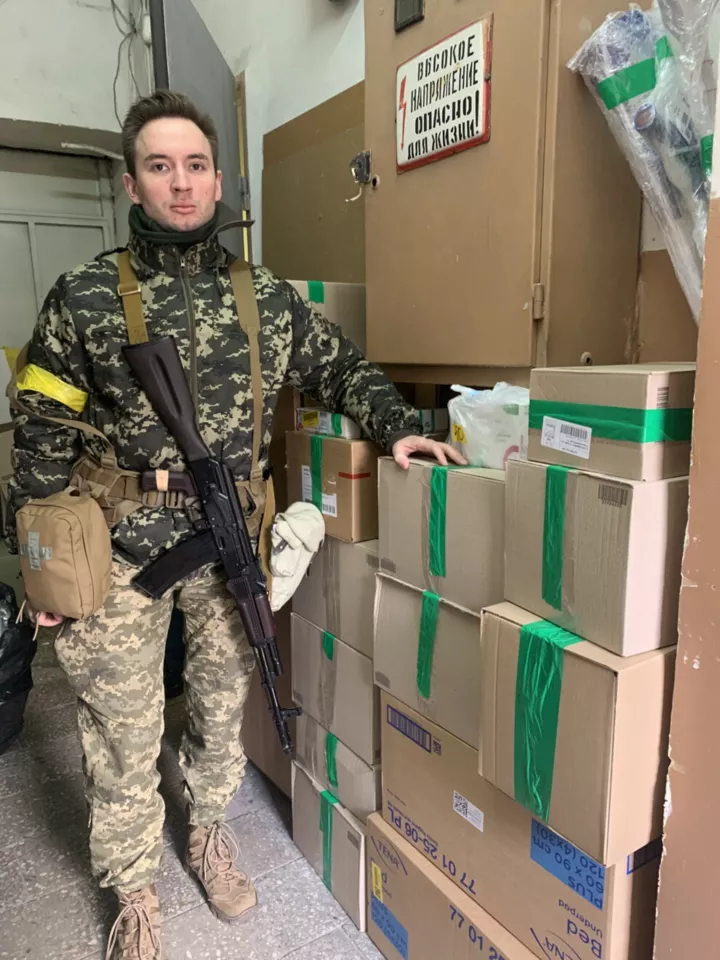 Back in Kharkiv, working in a hospital, I graduated from modelling school and tried myself as a model. But then I just met with this area. It has become easier in Kyiv – there are more opportunities for development. Yes, I still had a contract with the Armed Forces, but I had free time, so I finished my first make-up courses. Before that, by the way, I went around all the modelling agencies and was a little disappointed in the profession.
About 2 years, before the covid, I dedicated myself to my development in the beauty industry. I worked as a consultant in the beauty corner of the Kyiv Central Department Store, then I was the head of a beauty salon in one of the shopping centers in Kyiv. I continued to work in modelling, but more for myself, mastered pole dance. I always look for inspiration in creativity and creative people. For me, the model and source of inspiration is the singer Tina Karol, talented, brave, and strong. In 2013, her husband died of cancer, and at the same time this disease took away my father – and it was Tina with her rod who became an example for me to live.
Unfortunately, the pandemic made its adjustments in my life – for some time beauty salons did not work at all, and I had to return to medicine to provide for myself. So, on February 23, I was in the military enlistment office – we understood that there would be a war. I wanted to go to the hospital as a military doctor, but due to bureaucratic nuances it didn't work out, so I went to the Territorial Defence, signed a contract, and 24 just packed my things and came to the headquarters. Now I am the deputy chief of the medical unit.
I am a reserve soldier – we are being mobilized first. Yes, there was an opportunity to leave the country in the early days, many were invited, and no one especially kept men in the country in the early days of the war. But I don't see the point in running away. It will be more useful for my country here – that's why I stay.
A few days ago, I made a collage and posted it on Instagram. On it – two photos of me, as if from different lives. In the photo on the left, I am in an artistic image, with heels, I am fond of pole dance. And on the right – I'm in military uniform. Frankly, I didn't think the photo would cause a real explosion on Instagram – but thousands of people spread it. I now think: did I do the right thing? Because many people say that I did it for PR to attract attention. But this is not the case. I just compared two radically different images in which I feel harmonious. When someone writes on social media, "The army made you a man," I feel bad. Hi, people, I'm comfortable with both! In the photo, both on the right and on the left – it's me!
Of course, in 2015, when I was in the Army for the first time, I was already aware of my orientation. But then I was completely ignorant and did not discover it. I did not post anything on social networks. And there was nothing – I didn't work in the creative sphere then and I had nothing to show – for example, my success in pole dance or beauty. Most of my colleagues in the army guessed at the time, of course, but no one discriminated against me because of my orientation.
Now I have chosen the path of publicity – not for PR, but because I am a creative person and used to show my work on Instagram. The whole military community that I work with and communicate with today is looking at my stories, so they saw this photo – but they all applaud standing up. I have never faced discrimination in the military. But in fact, it depends on you how you perceive it.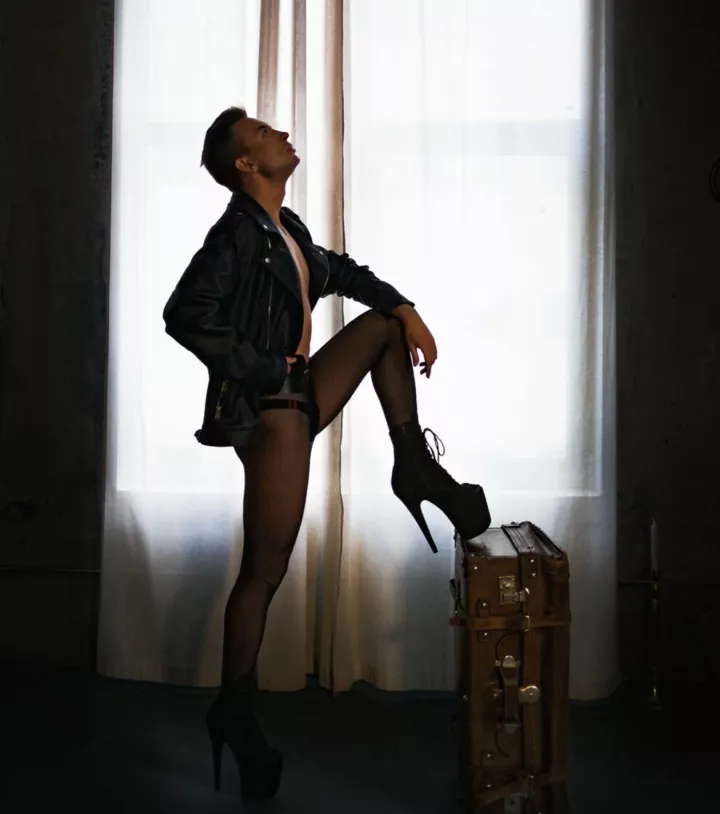 The first five days of this war were terrible for me – at first, few people understood what was happening. Even in the anti-terrorist operation zone, I felt safer. And now I was even afraid of the dark – there was always a sense of danger. Now I feel confident and even loved the darkness. Because the evening is peaceful. When you can take off your boots and uniform, put on a sports suit – and create a cosy homely atmosphere.
Rituals help in the war; I also have some. I still have half a jar of Genosys Facial Serum. I apply it to my face every night. While there is an opportunity, you need to take care of yourself. In general, I have such a wonderful character: if something is wrong with my appearance, I am simply incapacitated. For me, the order is important in everything. My day starts at 5 am – because I want a hot shower. It reminds me of the experience of student life in dormitories.
My Instagram, my publicity is an opportunity to help. Find the necessary medicines from the volunteers, find additional supplies of backpacks with medical supplies. Communication and contacts work here – and I use my publicity to some extent. But I do not plan to work in medicine in the future – I'm still a creative person. No, I don't want to be a doctor all my life. But let's win first, and then we'll talk.
I'm not scared now. More precisely, I do not think about fear. The only thing I fear – for my homeland, is that my Henichesk remains an occupied territory. There's my mom…"