"I use every opportunity to talk about the war": an interview with Andrii Shevchenko
Andriy Shevchenko, football superstar, Golden Ball winner, football player, 46 years old. Uses all his influence and resources to talk about the war in the world and raise funds to help Ukraine.
On February 24, football superstar Golden Ball winner Andriy Shevchenko woke up to a call. It was 3:30 in the morning in London. His mother called.
"I immediately understood everything," Shevchenko recalls. — Mother was crying, and her house was shaking from the explosions. "We were attacked, we were attacked," she repeated. I felt confused, helpless, and guilty. After all, I was so far away. I told my mother that I was leaving to see her right now. "No way," she protested. "Go to journalists, go to television." It was the most challenging day of my life."
Shevchenko hung up. I turned on the TV and saw a full-scale invasion live on the BBC. After a few hours, he gave his first interview for this war. There will be several hundred of them during the year. Do they have a tangible impact on the situation? "I don't know, I'm not a professional speaker," says Andriy. "But I use every opportunity to talk about the war."
He downplays the power of his voice. Each of his interviews directly affects fundraising for Ukraine and gives massive coverage at the Golden Ball ceremony in Paris, where Shevchenko was invited to award the best soccer player of 2022. A short speech dedicated to Ukraine gained millions of views on social networks and caused an emotional reaction from the audience in the hall. The athlete did not hold back tears.
2022 is the first time in 30 years that football took a back seat for Shevchenko. "I could not think about anything else except what was happening in Ukraine. We handed over humanitarian aid, held joint meetings with guys who played in England — Zinchenko, Yarmolenko — and created the Play Your Part for Ukraine platform to raise funds to help children, women, and older people fleeing the war. England, Italy, America – I was constantly going somewhere in search of support. But this still seemed not enough. I remember the demonstration in Trafalgar Square, where we came with family. Blues and yellows fluttered all around, and I thought that a full-scale war had done what athletes had been trying to achieve for 30 years — to fill the world with Ukrainian flags. Unfortunately, it cost us too much."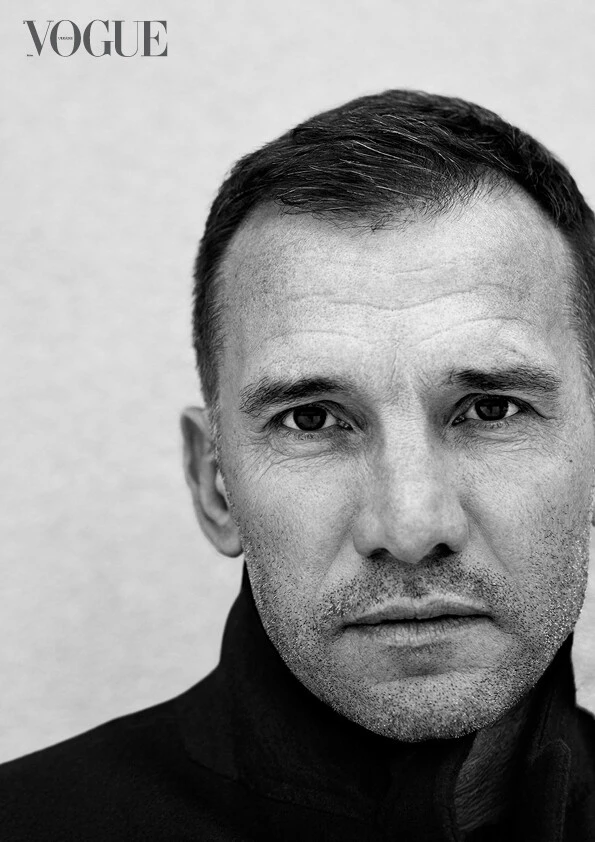 In early May, Shevchenko received an offer from Volodymyr Zelenskyi to join a new project — the state fundraising platform UNITED24. "Back then, no one knew what it was. How will it work? Will the project be successful? There were no analogs, but I agreed immediately."
On May 18, Andriy Shevchenko met with the President in his office in Kyiv and became the first ambassador of UNITED24. Soon he was joined by Imagine Dragons, creative director of Balenciaga Demna Gvasalia, actress and singer Barbra Streisand, actors Liev Schreiber and Mark Hamill, astronaut Scott Kelly, historian Timothy Snyder, and other world stars. In 10 months of operation, the UNITED24 platform raised more than $290 million in support of Ukraine. Shevchenko himself organized a dozen charity projects — from bracelets made from the last batch of metal from Azovstal to collecting generators for hospitals.
He recalls the meeting with Zelensky, entering the solemnly decorated hall of the Excelsior Hotel Gallia in Milan: on February 20, 2023, the United for Ukraine charity evening was held here. Among the sponsors is Giorgio Armani, and among the guests are the entire establishment of the city and the management of the Italian Serie A football clubs. The collected funds will go to the reconstruction of the stadium in Irpen, destroyed by Russian bombs and shells. It was this stadium that Shevchenko happened to visit during his first visit to Kyiv in May 2022. He saw how children were playing football among the ruins and ravines and decided that he had to rebuild it.
"It was important for me to come to Ukraine. In fact, for the first two months, I felt as if something had been taken away from me. I wanted to go to my native land, to my native city. I have seen Kyiv like this—very few people in general – and many soldiers with weapons. I walked around the city and went to the places I loved. I don't know why I needed it. The burnt house in Obolon, where I grew up. Roadblocks and hedgehogs near the house where I live. On the one hand, you feel enormous pain from realizing what happened, how much suffering, and how much death and destruction they brought to us. On the other hand, you admire the invincibility of people."
At the auction in Milan, it is the turn of the main lot – the Ukrainian flag with the autograph of Volodymyr Zelenskyi. Shevchenko interrupts to hear what the rates will be. They offer 5 thousand euros for the flag. "It's not serious," says Shevchenko, who raises his hand. — 20 thousand." The hall is rapidly coming to life. And in 10 minutes, the bet reaches 100 thousand. In the end, for 110,000 euros, the flag is bought by the Serie A League, an association of Italian football clubs. "This is a different conversation," says Andrii, and to applause, he goes up on stage to take a joint photo with the auction winners.
"You know, it was the Italians who taught me charity. Here it is sewn at the DNA level. Therefore, I understand how we should act and how to collect help. During the first wave of attention, the donations went by themselves for 2-3 months because people constantly saw Ukraine in the news. Now less is being written about us, and we must look for other formats. Big events, football matches, concerts — any event to combine rest and the opportunity to do a good deed."
Shevchenko recalls how he starred in a joint video with astronaut Scott Kelly and boxing champion Oleksandr Usyk and went to Borodyanka and Irpen with actor Liev Schreiber. "There was not a single surviving house on the central street. We drove to a destroyed hospital, To the stadium. There were many children there. We did a small master class, chatted, and scored a penalty. I saw this spark in them – the desire to play, no matter what. And then we went to a temporary town where people who had lost almost everything lived. Of course, they cried and told terrible stories of the occupation. But Liev was most impressed that we were treated too lightly with salted cucumbers and jam. Even in the dark, in the most difficult time of their lives, Ukrainians show fascinating endurance and hospitality."
The auction is over. Andriy has a tired but satisfied look. One of the donors of UNITED24 confirmed the contribution of 200,000 euros. Soon the children will return to this stadium; Andriy promised them to play the first game together with them.
Text: Yaroslava Gres
Photo: Stephan Lisowski
Style: Anastasiia Zamula
Grooming: Svitlana Rymakova
Photographer assistant: Oleksandra Curkan