How to organize a wedding that will be remembered for a lifetime
Promotion
A wedding is a special day in the life of every person. Some people dream of a big holiday with a hundred guests, while others prefer a more intimate atmosphere, with no unnecessary fuss, but everything around is very beautiful. For those who dream of a wedding in a special place, we asked 'Italy Elope' to reveal its secrets. The professionals of this team are real masters who will help newlyweds escape the anxiety of a large wedding in favour of a romantic elopement in Italy's finest locations.
The main people at a wedding are the couple. Our experience shows that selecting the right location and the best professional Italian wedding photographer are essential to guarantee an incredible wedding adventure with stunning photographic memories. You will want to share your photos with loved ones and on your personal social media, as well as print them in a wedding album, and of course over the years the images will allow you to relive these tender moments.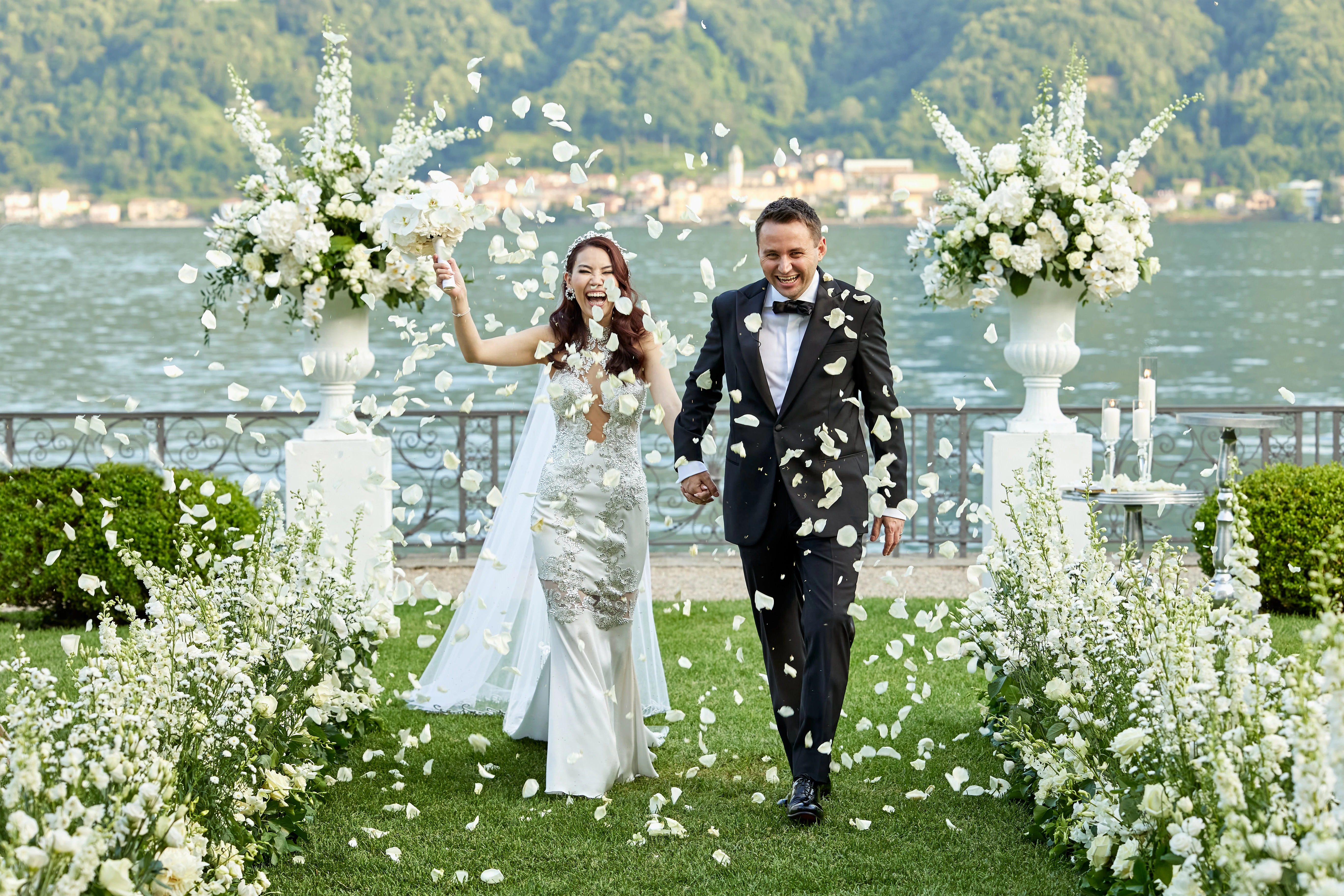 One of our latest works is Ami and Bobby's wedding , who wanted a luxurious and exclusive event. This is why Villa Balbiano on Lake Como was selected. The couple rescheduled their wedding three times due to COVID-19 and hit a point where they did not want to wait anymore. So, Amy and Bobby decided to elope but still do it right – as they had already planned their dream wedding in detail, they wanted to have the day they had planned with or without guests. They had the first look, ceremony with a celebrant, cocktail hour, boat ride, dinner reception, music, dance, cake cutting, and champagne opening.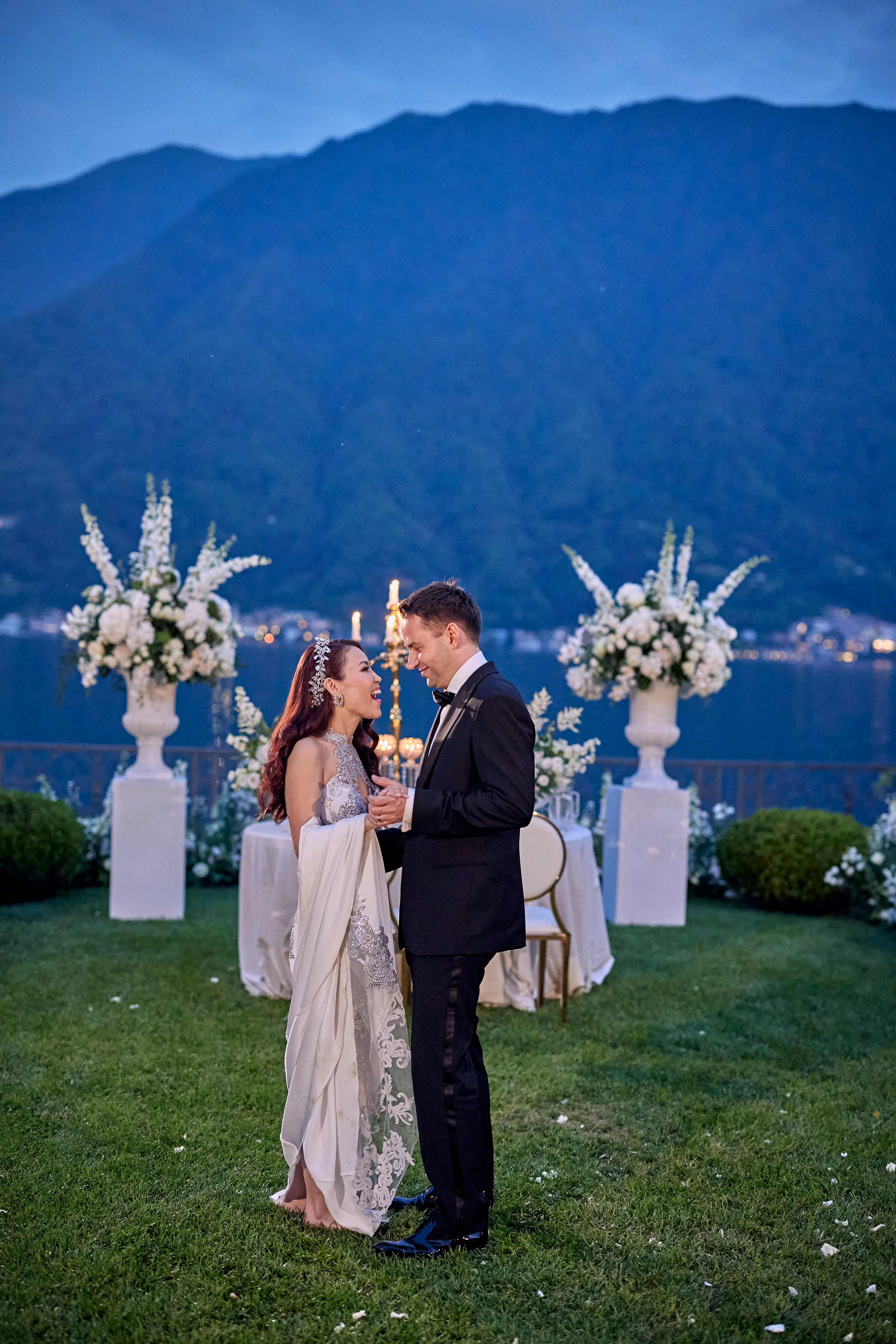 The location was chosen for a reason that helped make this ceremony special. On the one hand, Italy is an important place for this couple because their story began with a shared love for pizza, and on the other hand, this country is really an open-air museum, and Lake Como and its surroundings are one of the most incredible places in Italy. After much viewing, the couple chose Villa Balbiano. The newlyweds shared their impressions with us: "Although it was an elopement, it was still our "wedding" day, and we wanted to make it dramatic. Villa Balbiano came with elegance, romance, history, art, culture, and nature. Villa Balbiano ticked all the boxes for us. Also, although dramatic, we still wanted the intimate elopement feel in some way. We accented the perfectly landscaped gardens facing Lake Como with beautiful white flowers along the aisle and two large compositions on pillars thus creating a truly magical setting for our special day".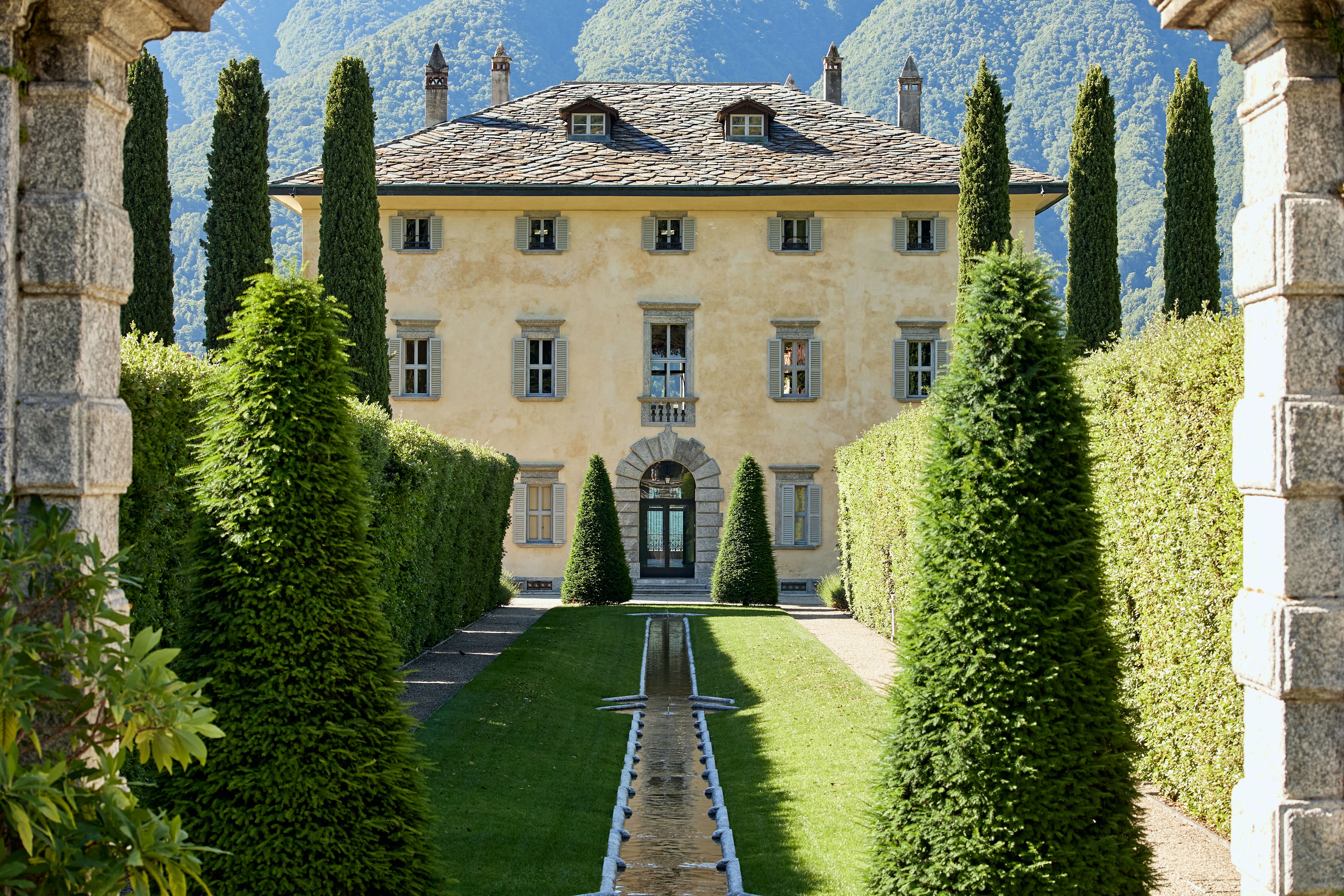 Villa Balbiano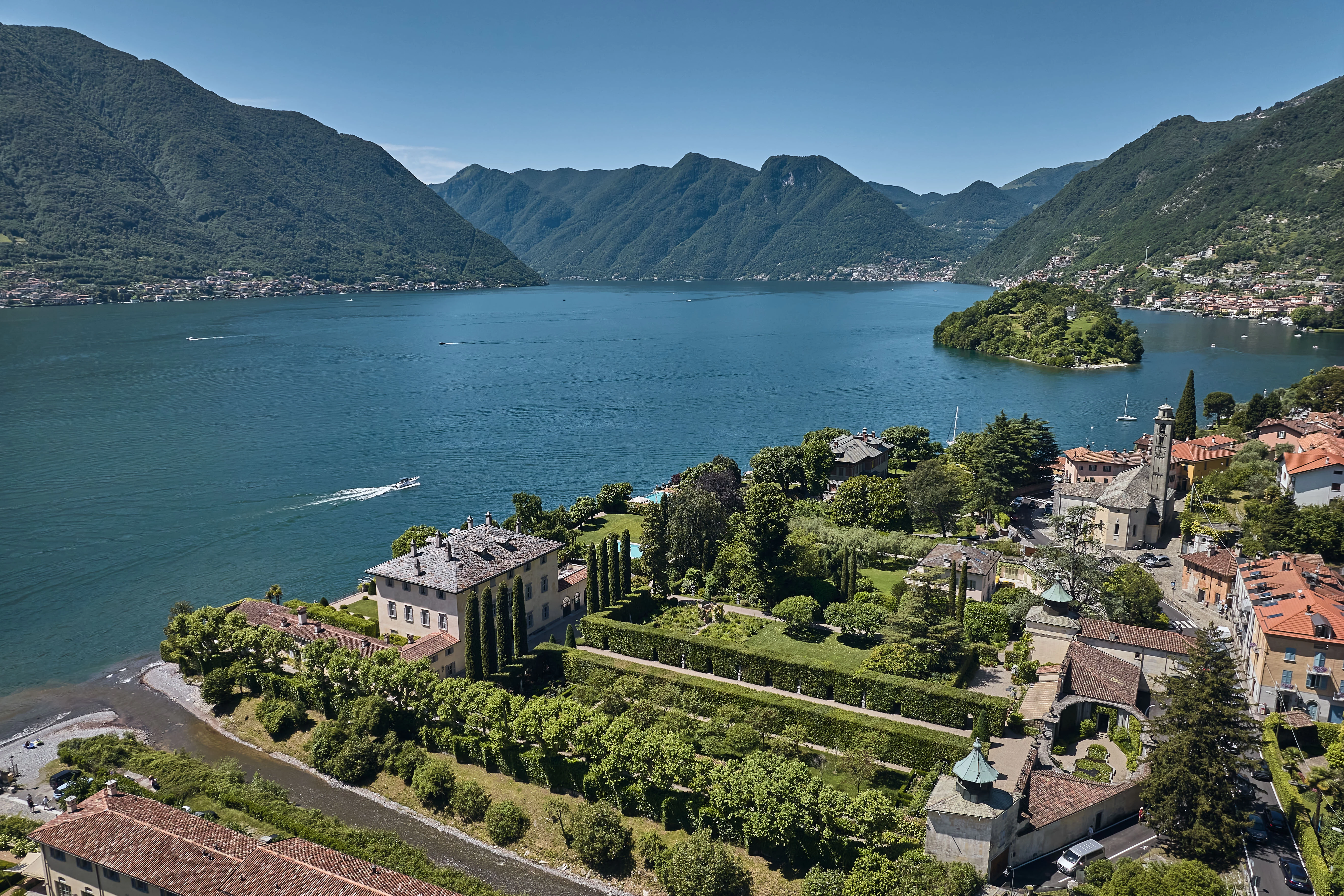 Villa Balbiano
Another interesting point – this villa has been featured in the film "The House of Gucci," but only by visiting in person you will feel the majesty of this place. Villa Balbiano looks like a museum, works of art here are collected from all over the world. Every room has a theme and is decorated with different beautiful artworks. It almost felt like you were traveling around the world just by walking around the villa.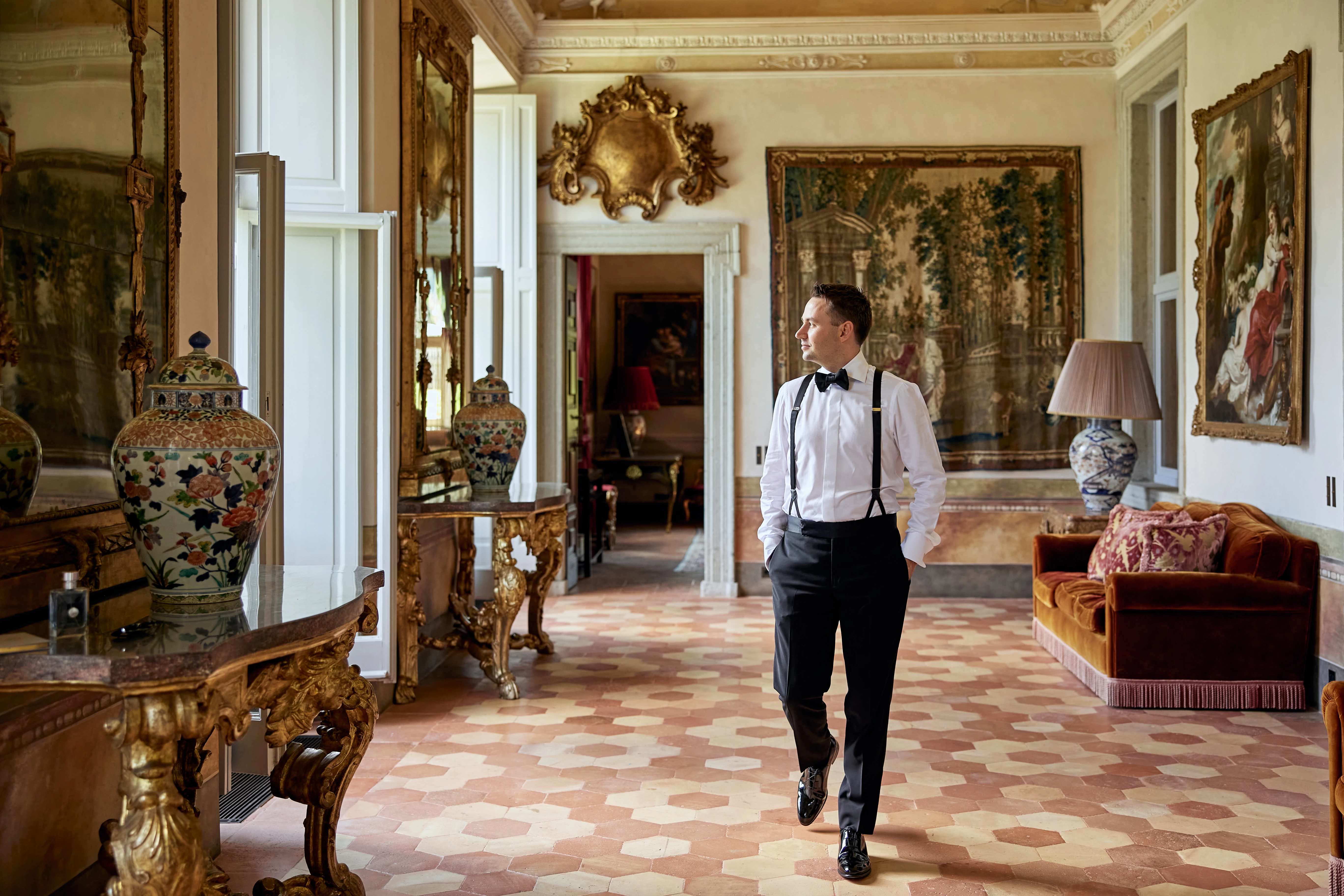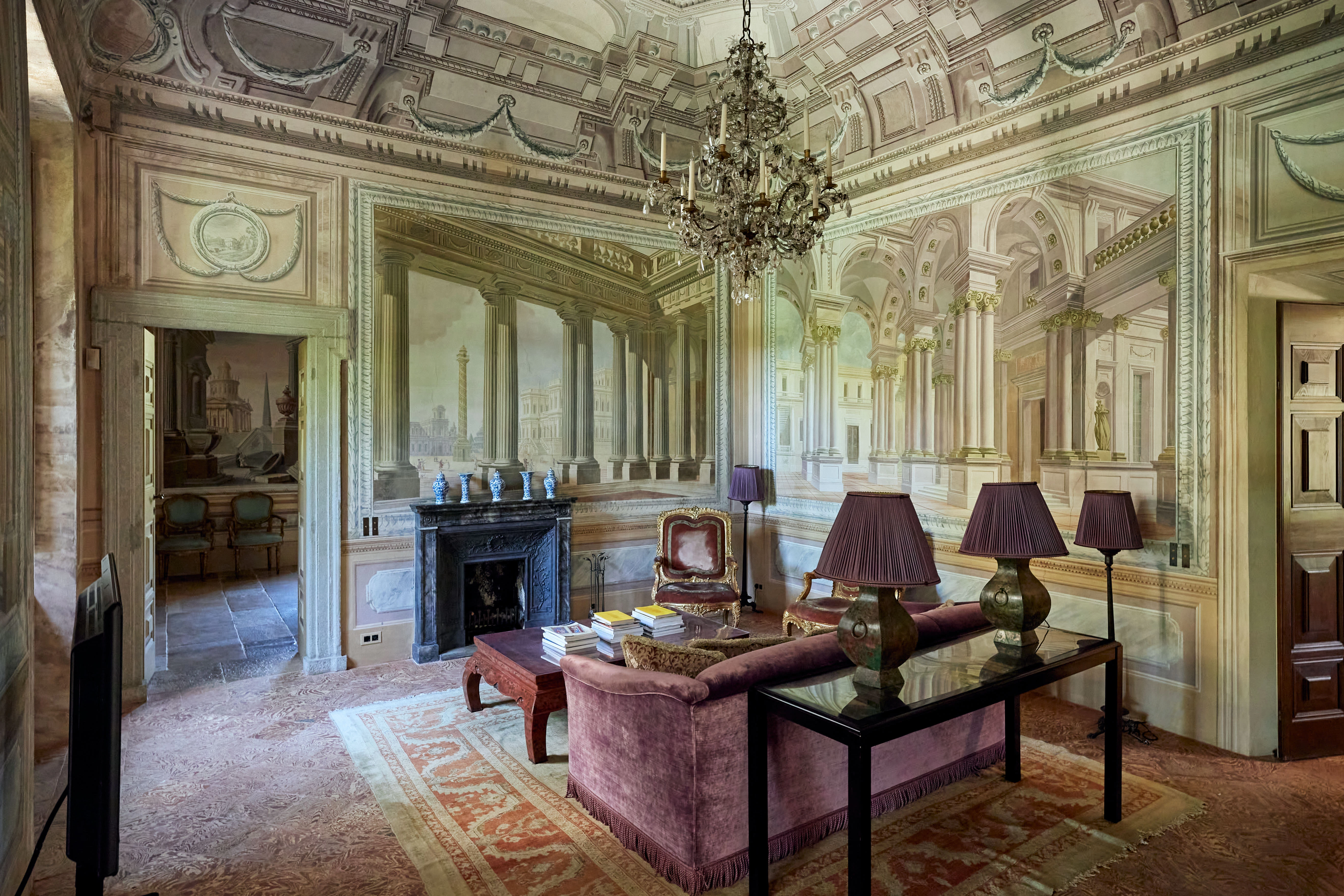 It was important for Ami to incorporate her Japanese culture into her bridal fashion. The Japanese word for crystal means "embodiment" (of abstract things such as love, commitment, joy, friendship, etc.). The crystal itself not only symbolizes purity and prosperity in Japanese culture but it is also believed to ward off any negativity and protect love and happiness. Ami's Pnina Tornai dress was perfect for her strong desire to incorporate Japanese culture – the dress was covered with crystals.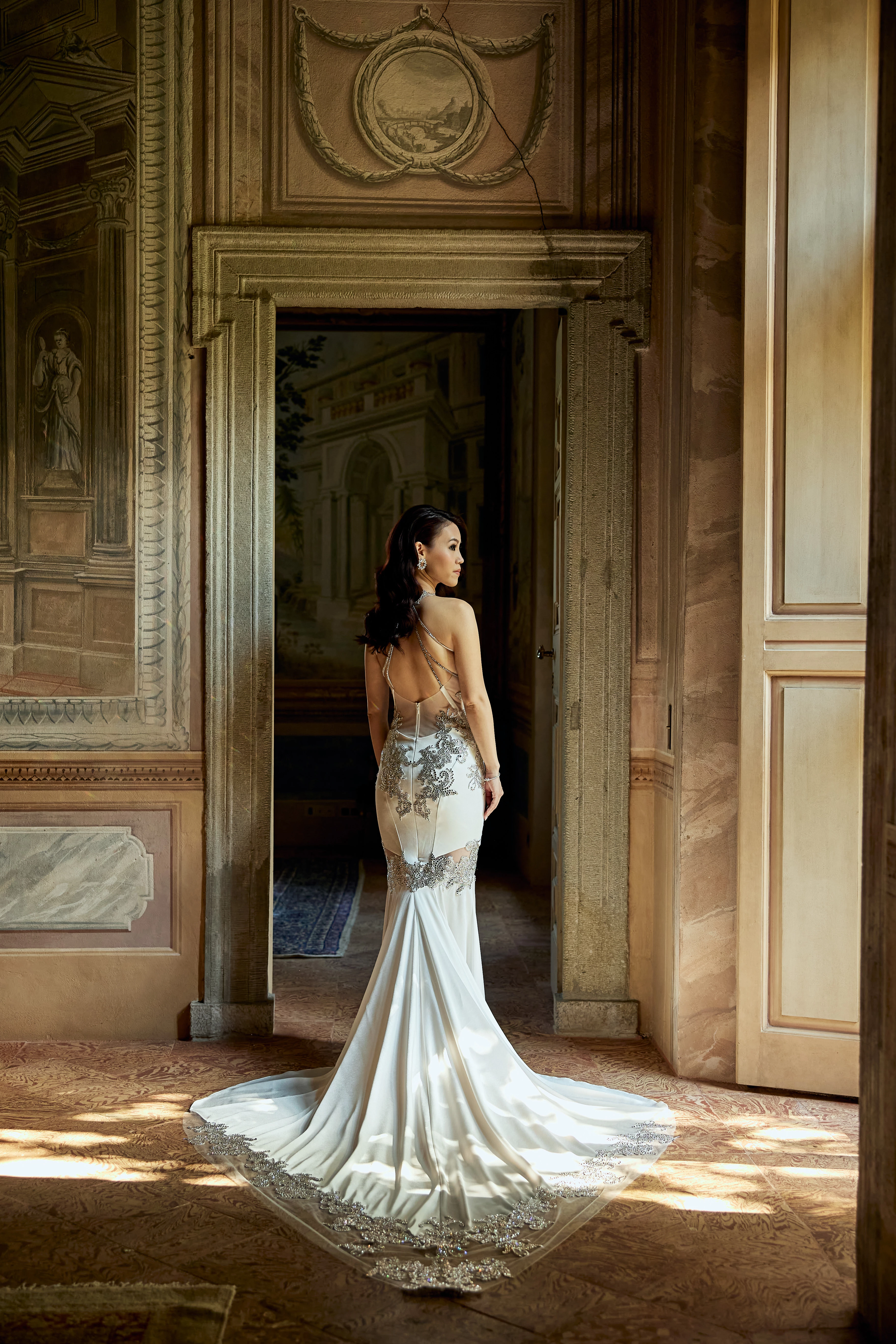 Ami also selected a matching Pnina Tornai veil and tiara filled with crystals, presenting the embodiment of their love as a married couple and protecting her and Bobby's love and happiness. Working with the cultural characteristics of different countries is a very important and exciting process that helps newlyweds feel connected to their roots. Both of them incorporated certain cultural aspects into their wedding fashion but purposely made their wedding day culture-neutral and religion-neutral because that is what they felt best represented the way they live.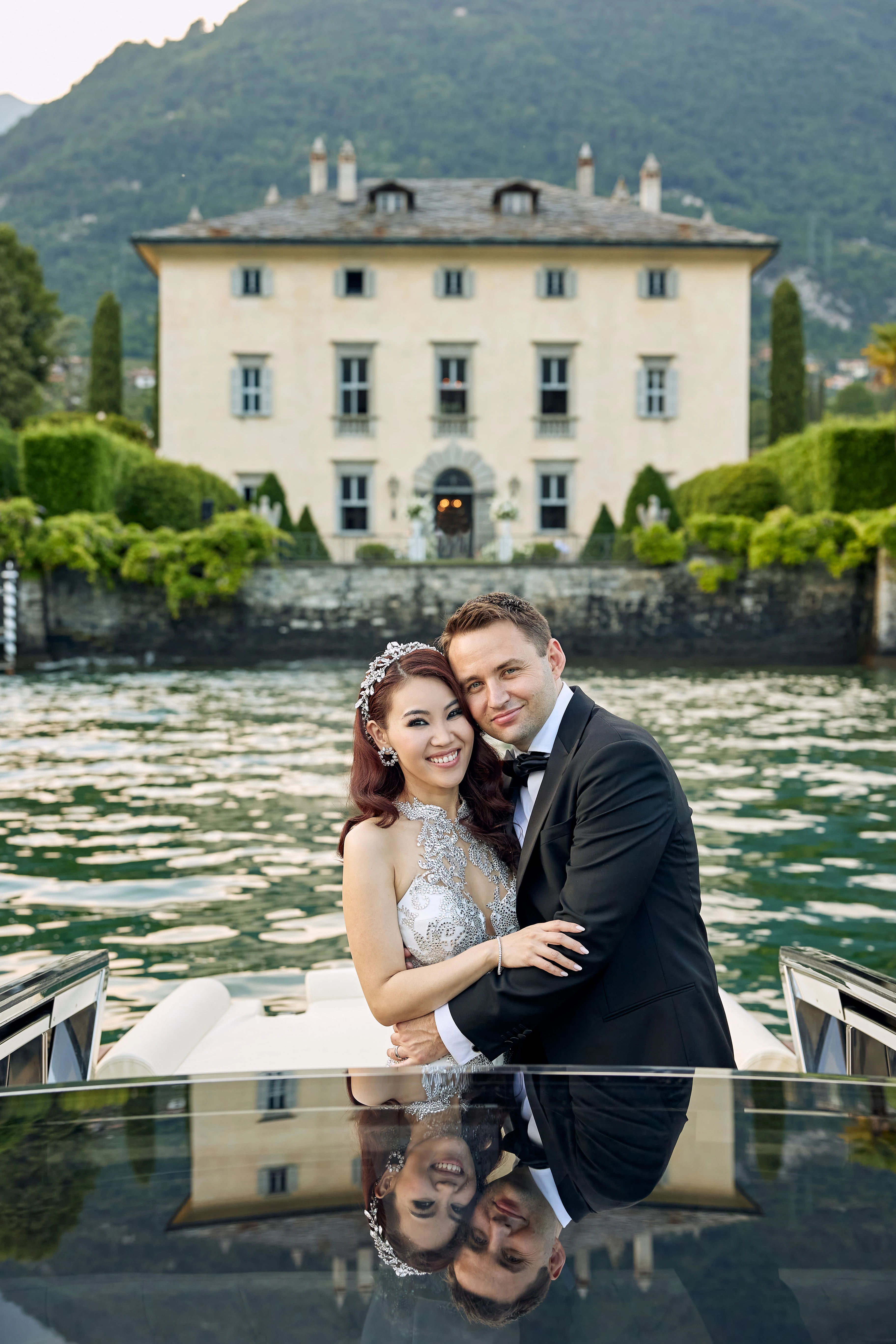 Wedding Team
Design + Planning: Italy Elope
Photography: Jules Bower
Videography: With Heart Films
Venue: Villa Balbiano
Stationery: Kartoe
Florals: Barbara Botta
Wedding cake: Sugarcups
Rentals: Preludio Noleggio
Catering: Class Eventi
Hair: Stefania Pellizzaro
Make up: Pablo Ardizzone
Celebrant: Blessings from Italy
Music: Nick Barrett