"The main way not to despair is to act": an interview with First Lady Olena Zelenska
How does First Lady feel after a year of full-scale war? Exhausted? Maybe full of will to fight? Recently, Olena Zelenska launched a national mental health program – a priority project. Does she feel burnout?
"I can hardly separate myself from others: the conditions are the same, the feelings are the same," replies Mrs. Zelenska. We meet for an interview on a cold February morning — the President's Office is quiet and dark. We pass by the same sandbags whose photos made it to the front pages of all the world's publications, from The Times to The Guardian. First Lady, her team, and the military on duty outside her office are calm and polite. We are served coffee, and instead of the planned forty-five minutes, the interview lasts well over an hour. First Lady admits she is glad we met for an interview: the minute-by-minute schedule makes her feel needed and effective.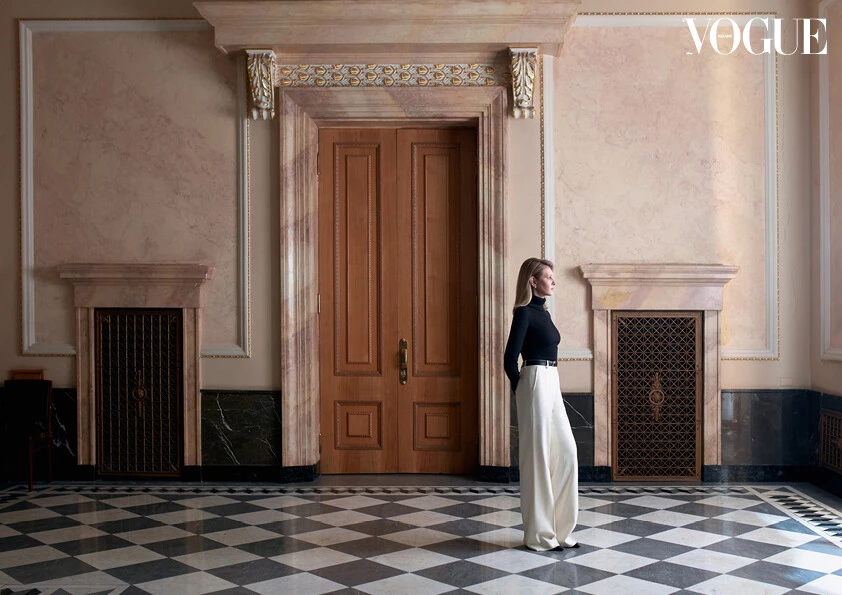 "The adrenaline that has kept me going all this time is running out," says Olena Zelenska. "And it isn't yet clear how long we have to keep going, but we understand that we have to keep going, so we must take stock of how much strength we have left. We all have to bear our responsibilities and work. When you know the day is planned, there is no time to think about how much longer we have to wait." First Lady admits – acting is the best way to avoid fatigue and despair. "If there's a day off, I'm sure it doesn't work for me."
Mrs. Olena Zelenska sees the care of human capital as her main goal during the war because Ukraine is, first of all, people. In particular, the mental health program initiated by her last year should help Ukrainians overcome the psychological effects of the war. I asked First Lady how this idea was born.
"The main way not to despair is to act"
"I couldn't calmly watch what was happening," she answered. "Trigger after trigger all around. Remember the photo from Bucha of the little boy beside his mother's grave in their backyard? When you realize the extent of our tragedies, you understand that society lives in tension – and this will not pass without consequences. Therefore, I took advantage of my opportunity to gather proactive people who have influence in various spheres of social and political life in Ukraine and launched this program."
The pilot project is to attract medical institutions specialists who studied in Israel at the international non-governmental organization IsraAID and specialize in extreme and military psychology. So far, 14 Ukrainian hospitals have joined it. One is in Brovary, where injured children were taken on January 18 after a helicopter crashed into a kindergarten. Unfortunately, the project, which is only a few months old, is already being tested in real circumstances — because every day, Ukrainians face tragedies that cannot be survived without help.
Similarly, a few days earlier, on January 14, Dnipro was the site of another Russian terrorist attack that claimed the lives of 46 Ukrainians. Immediately after the tragedy, First Lady's team informed the citizens about the possibility of receiving free psychological help by phone. In the first hours, 20 people contacted the hotline, and a month later, psychologists supported another 53 residents of Dnipro who were injured during the shelling of an apartment building.
First Lady notes: according to the protocol, psychological help in a crisis is provided by the services that first see the victim – police officers, firefighters, and emergency services, but teachers and doctors must acquire these skills. 'Workers of Ukrzaliznytsia, for example, are also received training within our program. Everyone who sees and hears a person with a traumatic experience must know how to behave. We must train much personnel, we must break this rock."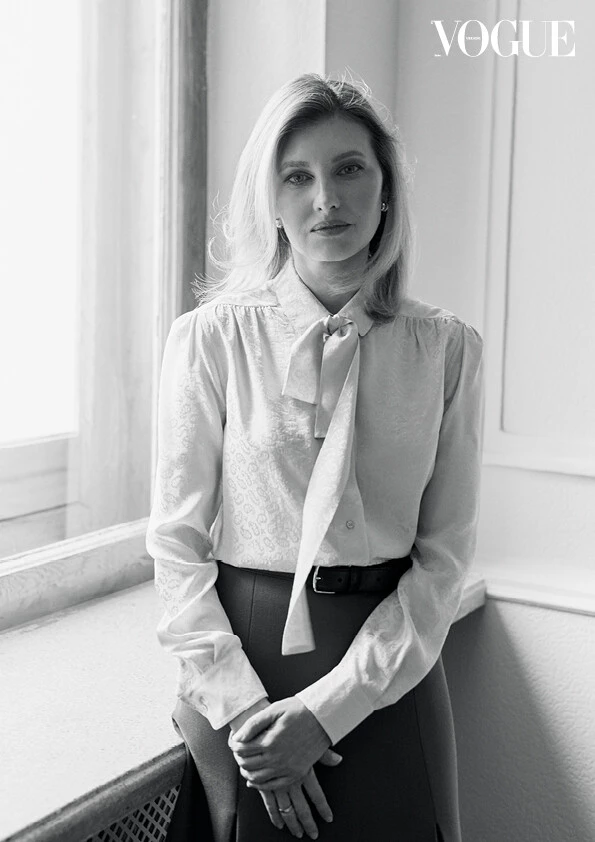 Mrs. Zelenska follows all the psychologists' advice, from proper breathing to making a list of simple household items that fill and support her during stressful situations. I asked First Lady what made it to her list. "I don't think anything is very original. Sport always helps. Walks. Washing-up. (Laughs.) I'm happy that I don't have to do it all the time, but it's still good. Due to the lack of electricity, we try not to use the dishwasher, so this is my way of relaxing. And cleaning is also about putting things in their places and throwing away extra papers, old cosmetics, or medicine. It calms me down when I put things in order. The best would be, of course, to go outside and run, but it is not always possible."
Last year, the First Lady's work schedule was hectic: she visited the USA, France, Poland, Great Britain, and Portugal because she undertook to tell the world about the horrors of the full-scale war in Ukraine. Each trip now lasts longer. Meanwhile, the children stay at home – 18-year-old Oleksandra and 9-year-old Kyrylo. "We try to build a schedule in such a way that business trips last three days at most," Olena Zelenska says. "If it lasts longer, I start to worry about the children: how they cope with air alarms."
"Do you know what percentage of people with disabilities go to a bomb shelter when the air-raid alarm goes off? 2.5 percent!"
During the full-scale war, Olena Zelenska continues to take care of areas that were close to her before – healthcare, education, and humanitarian aid. There is much more work to be done on each of them: evacuating children with serious oncological diseases to other countries for further treatment and searching for equipment for children's hospitals. upporting family-type children's homes in the liberated territories that suffer from a lack of electricity and constant shelling. First Lady also advocates for accessibility because the war continues to increase the number of people with mobility problems. "Do you know what percentage of people with disabilities go to a bomb shelter when the air-raid alarm goes off?" Zelenska asks. "2.5 percent! And not because the rest are so brave, no – they just don't have the means to get there."
In January, together with the Deputy Prime Minister for the Reconstruction of Ukraine Oleksandr Kubrakov, Olena Zelenska presented new chapters of the "Barrier-Free Solutions Album" — a practical guide on inclusive construction with examples of how to make the city friendly to groups of people with reduced mobility. KNUTD students were among the first to see the new sections. "These are the future specialists who should design the urban environment correctly as soon as possible," Zelenska says and adds: "New building standards and regulations have been adopted, and each of the relevant ministries is preparing its work, but public opinion also matters: until we understand, until we notice people who need barrier-free solutions – nothing will change."
One of the critical projects of the Olena Zelenska Foundation today is restoring the Izium Hospital, the backbone of the Kharkiv region
To more effectively attract foreign investments to restore people's lives in Ukraine, Olena Zelenska presented her own Foundation in the fall of 2022. Its purpose is to rebuild the country and help people. One of the critical projects of the Olena Zelenska Foundation today is restoring the Izium Hospital, the backbone of the Kharkiv region. It was looted to pieces and almost destroyed by the Russians during the six months under occupation. First, the enemy bombed it: because the projectile hit the central building, two floors, where the operating unit and resuscitation were located, were destroyed. Then, when the Ukrainian Armed Forces were already liberating Kharkiv Oblast, the occupiers looted the hospital's property — they even took away beds from the hospital ward and electrical equipment.
Olena Zelenska tells the whole world about the current state of this hospital, as well as institutions in other liberated territories. In December in Paris, at a charity evening in the historic La Salle Pleyel, First Lady told the story of the occupiers who, when fleeing, tore out even the sockets and electrical wires from the hospital walls in Izium. And then she told about the doctor Yuriy Kuznetsov – "an ordinary Ukrainian hero who himself did not know what he was capable of." Yuriy came to work in March and left the hospital in September — his shift lasted six months. Kuznetsov is a traumatologist by profession, but during the occupation of Izium, he was both an obstetrician-gynecologist and a surgeon – he delivered nine babies in the basements of the hospital, rescued those who were blown up by mines, who were injured by fragments of Russian shells.
After Olena Zelenska's speech, many guests who were present could not hold back tears, and the French press published flashy headlines. First Lady knows how to reach the listeners: the world wants to help specific people, so her task is to tell personal stories of the Ukrainian resistance: about a doctor from Izium, about a child whose mother was killed by the Russians. Olena Zelenska is not a politician so she can address the world more sincerely and emotionally. The ability to tell stories and the soft power of diplomacy, multiplied by Zelenska's editorial skills acquired in pre-war life, work perfectly. After her performance in Paris, Michel Hazanavicius, a famous French director and Academy Award winner donated 250 thousand euros for the restoration of the Izium Hospital.
Olena Zelenska says that she feels the world community's support every minute. All of her colleagues, whom she knows personally thanks to the Summit of First Ladies and Gentlemen, which she founded in 2021 as a platform for dialogue, were involved in the war effort. "First Ladies of Poland, Lithuania, Latvia, and Estonia are our closest neighbors who feel our pain the most. Brigitte Macron was the first person I met as First Lady, and our communication continues. We are communicating at the level of old acquaintances. You can skip the formal part and immediately move on to important topics – it is more pleasant and productive. (Smiles.) There are also new contacts: for example, in London, we met Akshata Murthy, the wife of Prime Minister Rishi Sunak. I think we will develop constructive relations. I have met with Kate Middleton more than once, and recently I met Queen Consort Camilla, who is very involved in the fight against domestic and gender-based violence. And with Mrs. Diana Nausiedene, the First Lady of Lithuania, we opened the first Ukrainian center in the European Union in Vilnius for citizens who were forced to leave Ukraine. And Diana sincerely takes care of it – it is extremely gratifying to see such an attitude."
"I want to go on vacation, but I don't allow myself to think about it because those are sad thoughts"
Zelenska became part of the community of First Ladies a little less than three years ago. Then, in 2019, we recorded our first interview – Ms. Olena was much more closed and reserved as if she was figuring out who she could trust in this new role. Today, Olena Zelenska seems completely different. "I don't know if I have changed – I think it will be possible to understand later when we exhale. I now pay less attention to the little things related to who will think what about me or what impression I will make when I say or don't say something. I understand that I have a goal and must achieve it. So many things have been reinterpreted now: what used to bother me becomes trivial in times of emotional disturbances," she answers.
First Lady admits that being helpful to her country is her main goal. But what remains behind the scenes of civic duty?... "I want to go on vacation, but I don't allow myself to think about it because those are sad thoughts," First Lady smiles. "And I want the children to survive the war without significant injuries. We work with them, but anyone can ask: why study – who knows what will happen tomorrow? No one knows, but it is necessary to maintain faith in tomorrow because everything will be fine. And I repeat "everything will be fine" like a mantra, and I believe in it myself.
Photo: Stephan Lisowski
Hair: Pavlo Lotnik
Make up: Svitlana Rymakova
Gaffers: Andrii Ushenko, Oleksii Kuzmenko