Lost Life: artist Sasha Anisimova on her Kharkiv drawings
Touching works by Kharkiv-based illustrator Sasha Anisimova have been seen around the world. Her delicate drawings are better described as pictures of stolen life. Inhabiting the destroyed buildings of Kharkiv are human figures engaged in mundane affairs: working, practicing yoga, reading a book. Sasha Anisimova tells Vogue.ua how this series came about and how the world reacts to it.
I was born in Kharkiv, lived here all my life, and never wanted to leave. The city inspires me endlessly. But the brutal war forced me to leave it – and now I dream of coming back every day. On March 18, I turned thirty. I rarely celebrate my birthday, but this year I thought, 30 is a benchmark, I needed to do something, have a big party. Well, I will never forget that day.
I am one of those who, till the end, did not believe that the war would start. Throughout February, my boyfriend was asking me to pack. I didn't listen; in the end, I didn't pack anything. On the morning of February 24 we woke up to the sound of explosions. Windows were shaking, the whole building was shaking, we saw the explosion just in front of the house.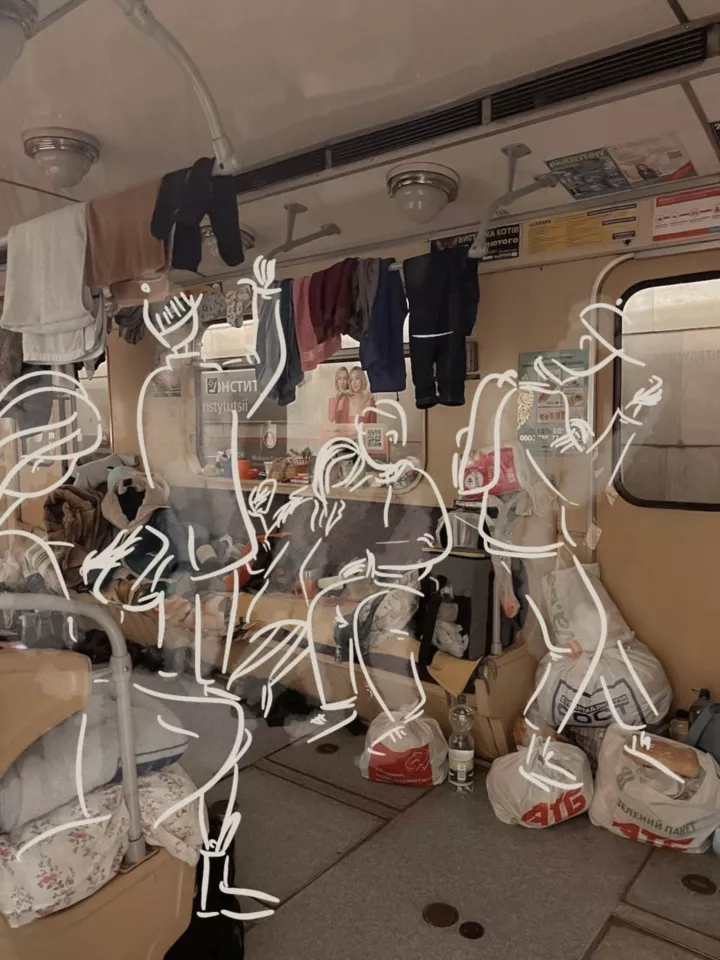 The three of us left – my boyfriend, our dog and I. We went to the Western part of Ukraine, and later moved to Cherkasy. Now I feel ashamed – for being safe, for not being bombed, unlike my relative. My grandmother, aunt and uncle were staying in Kharkiv, but later they left. My father was in Bukovel when the war started; he stayed there. Now, several of my close friends are in Kharkiv, but they are all being busy. My close friend is a cameraman, he makes videos and takes photos for various media outlets. Remember David Beckham shared his Instagram account with a Kharkiv doctor a few weeks ago? The video for this Instagram series was shot by my friend.
I am an architecture restorer, I graduated from Kharkiv University of Civil Engineering and Architecture. But I never worked in my profession, since I became interested in graphic design very early on. For the first two weeks of the war, I was numb. Reading the news, I couldn't believe it, neither could I draw anything. Then a friend sent a picture of a ruined building in Kharkiv. I know it so well because I used to pass it on my way to see my sister. I took a tablet and started drawing over that picture.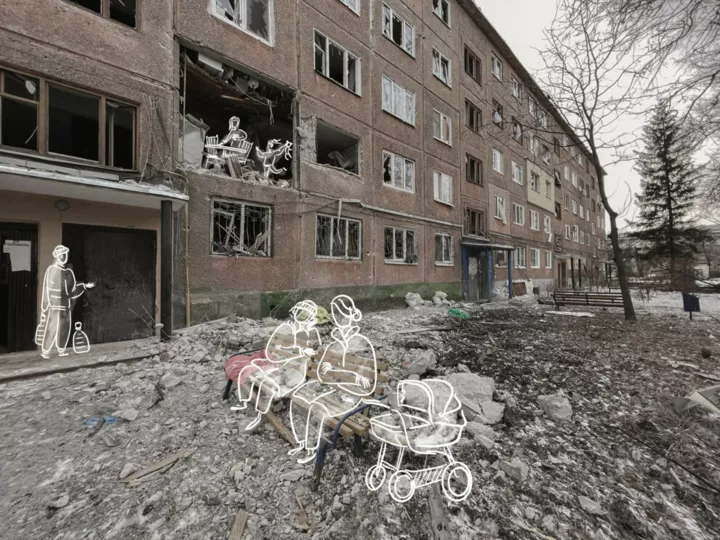 I've always been interested in how people lived. It's so strange: we live in the same prefabricated houses, very close to each other, often separated by just a thin wall. But what a different life we live! I've always wondered what was hidden behind those doors and windows. I might be sitting and working, and then someone next to me starts playing guitar, or they practice yoga. In my drawings, it's an ordinary day in the lives of ordinary people. Someone is looking out of the window, someone is playing sports, and someone went out for a smoke. Simple rituals that we've lost.
At first, these drawings were an opportunity to cope with my emotions. I drew what was dear to me: the streets we walked to visit my sister; a cafe nearby where I loved to have my morning coffee. Now I realise that I draw so that I don't forget it. I draw to remember and to remind myself that this will happen again. Before I started posting my drawings on Instagram, I had roughly one thousand followers. I never cared. Today there are seven thousand, and my first drawing has hit more than 20,000 likes. I am pleased with the attention, but it is also very sad. I sent one of my interviews to my aunt. She replied that for the first time since February 24, she felt happy.
Europeans often message me with words of support and gratitude for my drawings; Western journalists find them appealing. The press asks how I developed the style and what it means to me. But I think it is more important to talk about the war rather than my art. About what is happening in Kharkiv, Mariupol, Bucha, and other cities. I look at photos from Bucha; I look at a photo of a dead Russian soldier with all the jewellery that he snatched – and I can not comprehend the cruelty. European galleries have reached out to me, many offering to sell my paintings as NFT. But I'm not ready, it still is too painful.
On February 24, we left our home with just one bag, so a few days ago we decided to go back to Kharkiv to pick up some things. I was scared to go – but the trip was not so scary after all. There are many checkpoints on the roads, and everything is controlled by our brave guys. The military is very positive which is very relaxing. They joke, they smile, and treat you to something. Our warriors are truly amazing people.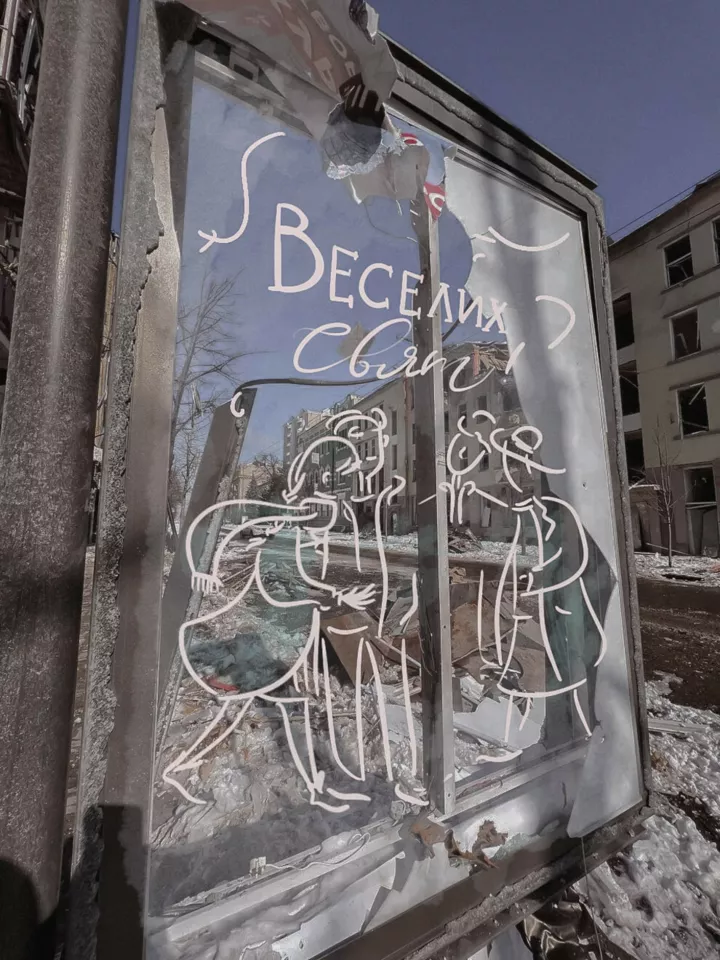 Going to Kharkiv, I was afraid of what we would see there. But when we arrived I realised that, despite all the horror, the city is holding on! It is clean there. Just imagine! Every day the city is bombed and shelled, but every morning the brave communal workers go out and clean everything. Fences are being painted, roads are being repaired. Great people live here. When I, in tears, ran to my home doors, I met a neighbour. She asked, "Would you like some bread? They brought us a lot of bread here." You come to Kharkiv that is being shelled, wounded and destroyed – and you are offered fresh bread. It's an incredible city!
When we got home, I roared. I started panicking, not knowing what to pack. The most important things, what are those? Everything means something. Every pebble brought from seaside trips. Every picture. I took some clothes and some university drawings. I looked around my apartment and cried. It was so cosy. So familiar. And it was mine.
Despite all the horror, Kharkiv is holding on. Just imagine – the city is clean!
As I was packing, an air alarm went on. We hear it in Cherkasy a lot, but here I felt it felt different. There, it's not scary. But in Kharkiv it was really frightening. The explosions were far away but still very audible. To cope with the sudden stress I tried to deceive myself. Probably it's just the garbage being taken out, I thought.
I want to return home badly. I understand that due to its proximity to Russia, this is not a safe place and I will always be thinking about this disgusting neighbours. But I want to come back to be useful. To rebuild the city. Kharkiv has its charm. Although it is mostly grey, it is an amazing kind of grey. For me, it has always been mysterious. The greyness of constructivist Kharkiv, it's really beautiful.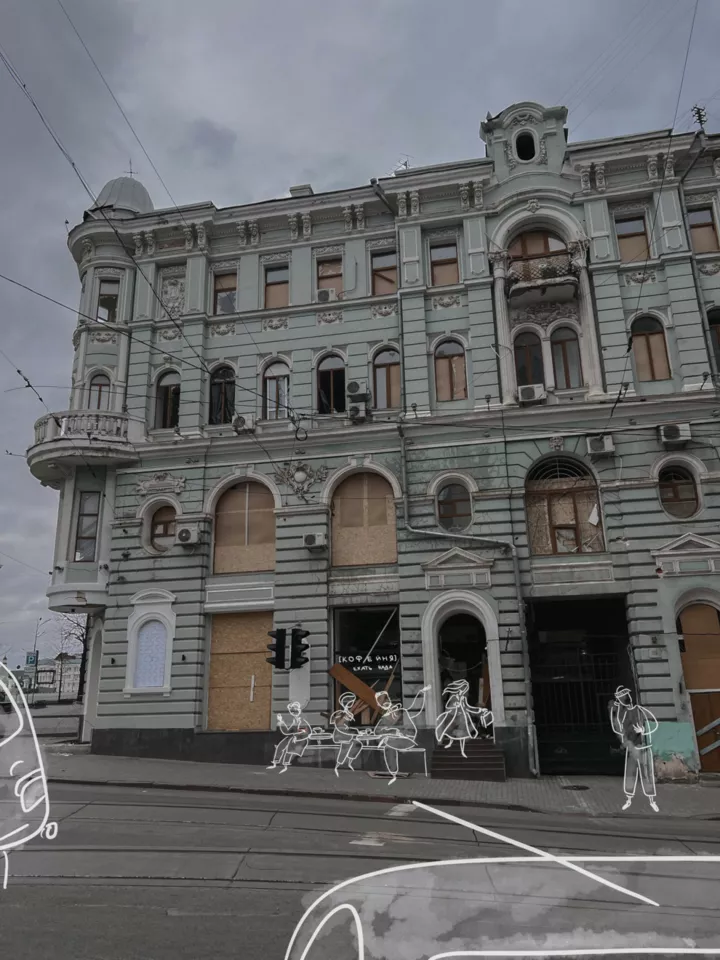 My drawings brought some attention, and we managed to launch a small charity project, printing T-shirts with my drawings. The project is called, Klaptyk (a small patch of fabric in Ukrainian). It seems symbolic to me: we are all tiny parts of a great nation. All the sales money will be directed to help Kharkiv communal services – the great people that fix water and gas pipes, right under missile strikes.
I was recently approached by a European publisher, offered to compile a book of my drawings. This is a good idea, but I'm ashamed to do it. Who am I to publish a book and talk about war? There are so many brave people in the country – doctors that operate and help women give birth in basements, the military that protects us on the front line. I feel ashamed, being safe, and there are so many truly heroic people out there.